And so another year has passed since my last review. It's been a busy year of learning a new language in my equally new country of residence, changing jobs (and everything that entails) and, of course, writing 200 posts here on Lone Gunman (and thanks again to you: there's been hundreds of comments… and 49,810 spam comments).
The passing of another year can mean only one thing… Lone Gunman is three, and this is Year Three in Review.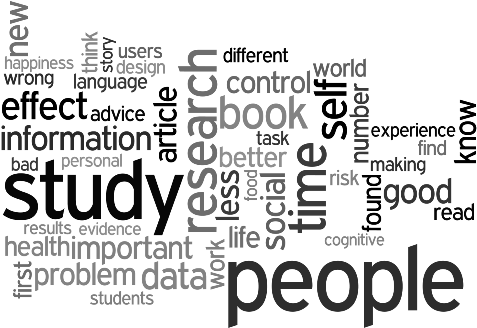 Visualisation of the 50 most frequently used keywords on Lone Gunman in year three.
Items definitely not to miss are highlighted (probably not through an RSS feed reader). [LG] denotes my original post.
First, the three most read and shared posts from the past year: Scientifically-Proven Ways to Improve Creativity, Statistical Literacy Guides and (the infrequently updated) Rules of a Gentleman.
Creativity
Sleep
Happiness
General Personal Development
Physical Health and Fitness
Persuasion
Made to Stick was one of the best books I read last year, and the authors have provided an outline of the six principles of creating 'sticky' ideas: simplicity, unexpectedness, concreteness, credibility, emotions, stories. [LG]
Rand Fishkin, co-founder of SEOmoz, created the Illustrated Guide to the Science of Influence and Persuasion, based on six principles from Robert Cialdini's much lauded Influence (reciprocation, commitment and consistency, social proof, liking, authority, scarcity). [LG]
There's also the ten timeless influencers of conformity to help understand why people are influenced in the first place. [LG]
Is someone or something wrong? Remember that corrections only 'work' if we already believe the corrected information, otherwise they reinforce our incorrectly held beliefs.
Experimenting with pricing or sales?
So that's one specific way cognitive fluency influences behaviour. For more, PsyBlog provided a summary of cognitive fluency research. [LG]
And practice your accent: cognitive fluency combined with accents suggests: as non-native speech is harder to process than native speech, we trust it less. [LG]
And be wary of neuro-babble: irrelevant neuroscience jargon added to an argument persuades us… even if we're neuroscience students. [LG]
Dealing with 'sacred values'? To persuade 

describe tradeoffs in terms of "costs and benefits" and "analysis" and definitely not in terms of financial incentives

. [LG]
Wondering whether to use numbers or stories to persuade. One study suggests that numeric and normative feedback (scores and comparative information) is more persuasive and effective than text feedbcak. [LG]
This brings into perspective the idea of furthering scientific causes by moving away from the holier-than-thou mindset of facts, data and the scientific method and toward personal, persuasive stories. [LG]
So how about persuasion through design patterns?
Behavioural game design is a hugely fascinating topic that gained a lot of followers throughout 2010. The theories apply to a lot more than gaming, but it's one of the best ways to approach the topic. To that end, every link on my post introducing behavioural game design is worth a read.
Business and Entrepreneurship
Technology
Books
Education
Other (Typography, Psychology, Writing, etc.)
Thanks!
Now that my life is starting to resemble something close to "normal", expect a much more regular posting schedule over the next twelve months.